Press Release - South Carolina Law Enforcement Accreditation Program
02/14/2022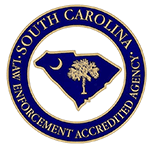 Columbia, SC (Monday, February 7, 2022, at 10:30a.m.)
South Carolina Law Enforcement Accreditation (SCLEA) is pleased to announce a new accreditation assistance program supported by the Office of Community Oriented Policing
Services (COPS).

The new program is designed to support law enforcement agencies in South Carolina as they work toward the goal of State accreditation. SCLEA is the premier accrediting body in South Carolina. To date, the organization has accredited 30 law enforcement agencies in the State, and another 27 agencies are currently in the self-assessment phase of the process.
This year, SCLEA wants to substantially increase this number and has designed a new assistance program to facilitate the plan.

"We want this new initiative to be a huge success," stated John Tucker, the organization's chairman. "We are opening a new office in the Columbia area and will be enlisting a new administrative staff to handle agency calls and questions regarding the accreditation process. Senior assessors will also be available to provide on-site training and follow-up with agencies that choose to accept the accreditation challenge."

State accreditation consists of five phases: application, self-assessment, on-site assessment, council review, and continued compliance. If your organization is ready to take the path toward best practices, the SCLEA staff will be available to assist you through each phase of the process.

Please visit the SCLEA website at www.sc-lea.org for additional information.
Contact information:
SCLEA Chairman John Tucker - jtucker341@aol.com
South Carolina Law Enforcement Accreditation Program

****END*****

This project was supported, in whole or in part, by federal award number15JCOPS-21-GK-02544-SPPS awarded to [entity] by the U.S. Department of Justice, Office of Community Oriented Policing Services. The opinions contained herein are those of the author(s) or contributor(s) and do not necessarily represent the official position or
policies of the U.S. Department of Justice. References to specific individuals, agencies, companies, products, or services should not be considered an endorsement by the author(s), contributors, or the U.S. Department of Justice. Rather, the references are illustrations to supplement discussion of the issues.